Next Sunday: March 6th, 2016
9:00
4-5th grade Our Whole Lives
9:15
10:30
Family Chapel (this month will be held in the Spirit Play Room)
11:00

Nursery Care
Spirit Play (preK) will have the story

Gone Forever

, about extinction.
Labyrinth Learning (1st-5th grade) will continue exploring the Bible, this month with stories that show vulnerability. This week is Noah.
Middle School group will be learning about Hinduism and wrapping up our study of Asian Religions.
High School group will begin work on their supply drive to help the Welcome Center at AID NW.
Family Chapel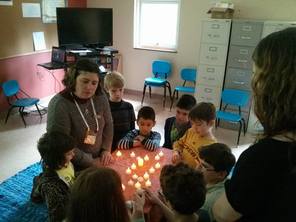 Please join me at
10:30
this Sunday,
in the Spirit Play classroom,
for a 20 minute Family Circle Worship on the theme of the month. This is a time for families to worship together, all ages, in a small group, participatory style.
I send an email every week to RE families "This Week in Religious Education". It has the whole scoop! If you would like to be on that list and you aren't receiving those emails, please let me know, or register: